After hearing so much about Bitcoin and how I could be a millionaire right now if I had bought at the right time. I decided to get into it and run a little experiment.
I'm sure a lot of you heard about Bitcoin and how the price is skyrocketing. But for those of you who don't know I'm going to make it simple and clear. If you had bought $5 USD in bitcoins in 2010, your stake would now be worth about 30 Million USD.  Yes, you heard it right, 30 Million USD!!! Believe it or not but In 2010 with five dollars you could have bought about 2,000 Bitcoins, right now the price is sitting at 15,000.00 USD for 1 BTC, that's insane, isn't it?
I keep hearing a lot of people saying that now it's too late to invest on it, that at the current price it's impossible to get into bitcoin, but did you know that Bitcoin it's just the mother of the cryptocurrencies? There are many cryptocurrencies similar to Bitcoin, coinmarketcap list at least 1300, many of them are as good as Bitcoin and their price it's by far as close as bitcoin.
Digging a bit on the web It's easy to realize that Bitcoin it's not the only cryptocurrency that has gained this much. Ethereum has gained more than 5000,00 % in the year so far and Dash started the year on the $11.16 US Dollar mark when it's now worth $780.63 US Dollar.
Moreover, a little chart that shows the value of a few crypto from the beginning of 2017 until December 3rd, 2017.
As you can clearly see on the list :
Bitcoin (BTC) – went from $ 959.00 USD to $ 11,393.24 USD
Dash (DASH) –  went from $ 11.16 USD to 780.63 USD
Ethereum (ETH) –  went from $ 8.38 USD to $ 471.80 USD
Monero – went from $ 13.56 USD to $ 203.05 USD
Litecoin (LTC) – went from $ 4.34 USD to $101.84 USD
You can find the chart on this link and personalize it http://www.cryptocurrencychart.com/chart/BTC,DASH,ETC,ETH,LSK,LTC,OMG,STRAT,WAVES,XEM,XLM,XMR,XRP,VTC,GRS/valueGrowthCumulative/linear/2017-01-01/2017-12-04
And for who loves images to compare here two screenshots of the top 20 cryptocurrencies on coinmarketcap, the one on the left was taken on December 3rd, 2016 and one on the right December 4th, 2017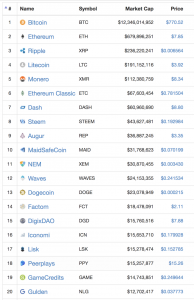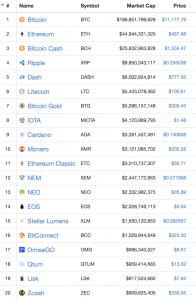 Enough with the stats, and enough thinking about what would be the right crypto to invest on, I will just buy and hold the Top 100 Crypto Currency by market cap and hold them for five years. Yes, you heard right, 5 years! I know it's a long time, but how much was Bitcoin worth in 2010? and what about Ethereum at the beginning of 2017?Seems like the best strategy so far has been buying them and hold it for a long time, well that's exactly what I'm going to do.
To make it happen there are a few things I need to get done :
Buy $ 1000 USD in Bitcoin from Coinbase (It's probably the fastest way to get some, they accept debit cards and it's almost used worldwide) or from Localbitcoin (Best way to get it with cash or alternative methods)
Use part of the Bitcoins to buy the other cryptocurrencies/altcoins
Another part on Bittrex
Make a list of the top 100 cryptocurrencies listed on coinmarketcap
Buy $ 10 USD in Bitcoin of each.
List them on Cointracking.info
If you want to run the experiment as I did, I did a tutorial in details : 
I just want to add that I'm not a financial advisor and that I'm investing for fun. If I will make a profit and hopefully I do. In 5 Years I'll close the so-called experiment and donate 10 % of the profit to a non-profit organization that you will help me to choose.
I'll stop writing now and get things going.
Don't forget to secure your Bitcoin and Alt Coins, use a Ledger wallet.
Buy it from here ledgerwallet.com