It's the 9th week since the experiment started, and the rollercoaster is not over 🙂
Been hearing the feedbacks of all the people who are following the experiment and I changed a few things around, from now on I will write about the best performing coins for the week and do a recap for the overall gain.
Bitcoin (BTC) after hitting the lowest price since months of $6048.96 USD recovered to $8,011.65 USD. The dominance at 34.5%, a bit lower since last week.
The overall unrealized gain of the experiment is $761 USD, 17.10 % minus compared to last week.
80 Cryptocurrencies are in minus since last week, this makes me understand that we haven't fully recovered.
With an overall gain of 76.1 %, the 100 cryptocurrencies together (CryptoETF100) performed better than 62 cryptos from the ones I have.
Let's talk about our Top3 cryptocurrencies.
Revain (R) with a gain of 74.04 %  since the last week is the best performer. A few days ago It was listed on OKEx and also been implemented Bitpie, №1 wallet service in China. These good news definitely brought a lot of attention to it and made the price recover well.
Status (SNT) is at the second spot with a gain of 22.97 %, a lot has been happening, from the collaboration with True Bit Protocol to winning the Nextplo Award.
Decentraland (MANA) with a gain of 19.74 % is the 3rd best coin of the week. The latest project update looks very promising and the release of the LAND management a lot of investors jumped in.
Top 5 cryptocurrencies so far :
Tron (TRX)  + 925.75 % , from $10.04 to $ 102.95
VeChain (VEN) + 587.20 % , from 10.11  to $69.50
Verge (XVG)  + 540.62 % , from $9.62 to $61.63
Revain (R) + 465.54 % , from $9.61 to $54.37
Aeternity (AE) +312.58 % , from $10.35  to $42.72
Worst 5 cryptocurrencies so far :
Next (NXT) -69.60 % , from $9.89 to $3.01
Mona (MONA)  -69.99 % , from $9.76 to $2.93
Pura (PURA) -69.99 % , from $9.62 to $2.89
Einsteinium (EMC2) -79.73 % , from $9.51 to $1.93
Bitconnect (BCC) -99.44 % , from $9.93 to $0.06
A recap of all the 100 Cryptocurrencies and how they are performing against USD

A recap of all the 100 Cryptocurrencies and how they are performing against BTC

Balance by day in USD :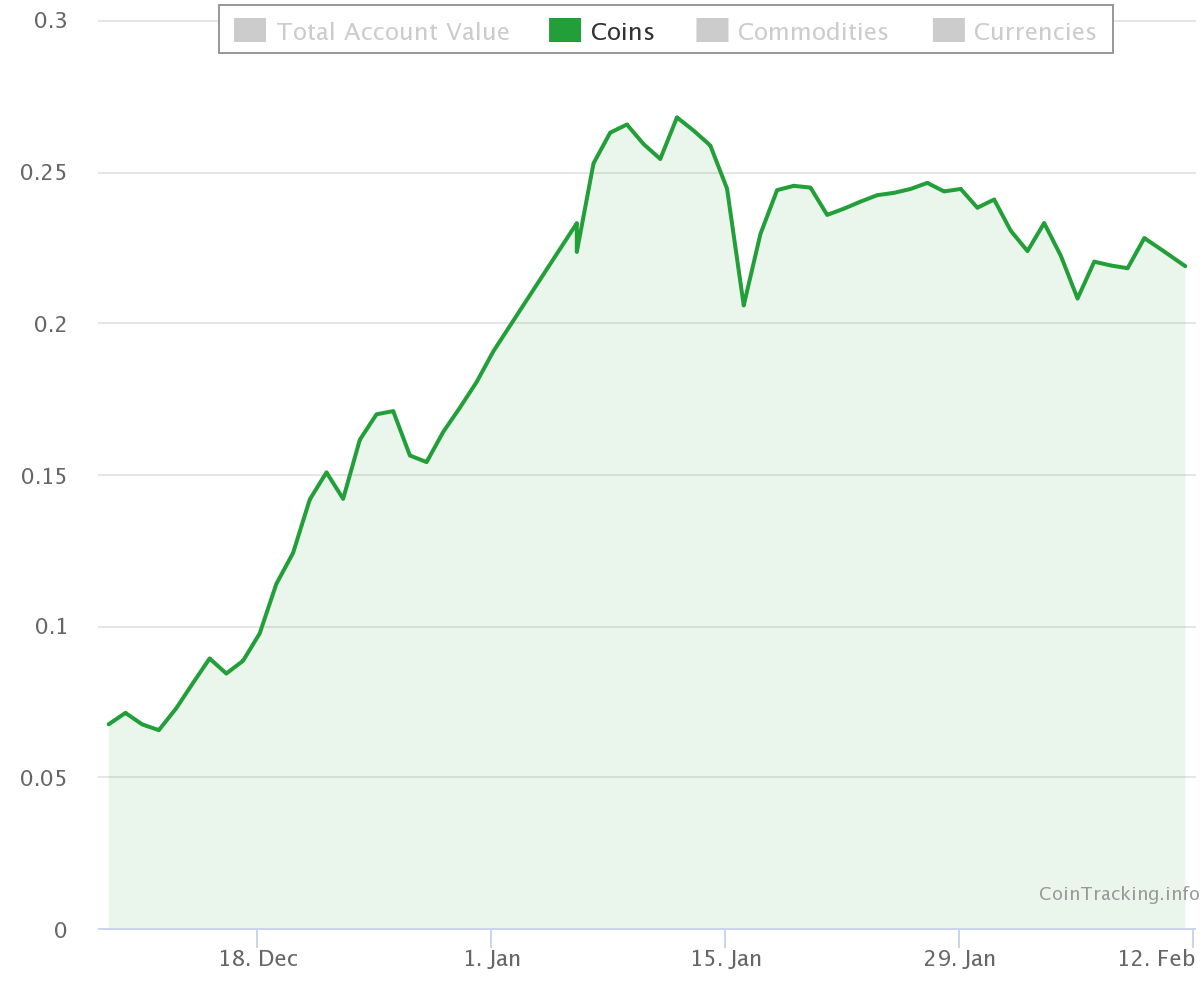 I made a tutorial on how to start your experiment : 
Otherwise in short this is how I started the experiment  :
Got $ 1000 USD in Bitcoin from Coinbase (It's probably the fastest way to get some, they accept debit cards and it's almost used worldwide)
Used part of the Bitcoins to buy the other cryptocurrencies/altcoins
Another part on Bittrex
Added all the trades on  Cointracking.info