It's the 8th week since the noxperiment started, and guess what? I'm still making a profit 🙂
What's happening in the crypto world it's just unbelievable. Seems like everyone is against it and doing whatever is possible to put it down, we had previously the re-Ban from China, all the FUD about South Korea, then this week India going heavy on traders, Facebook and Google not allowing any more adds about Cryptos and lastly Bank of America not allowing any more to buy cryptos with their credit cards. To don't even talk about the majority of the exchanges not allowing anyone to make new accounts and some of them adding absurd fees to deposit, as if their heavy fees on withdrawals weren't enough. What I find absurd is that a few months ago there was a lot of FUD about how slow and expensive it was to send BTC, and now that the Lighting Network is finally out, with more than 1000 active nodes, making BTC transition super quick and cheap, the price is at the lowest since November 2017! Does all this make sense to you???
Bitcoin (BTC) price is at the moment $8,633.14 USD.  and the dominance is 35.2%, a bit more since last week.
The unrealized gain of the experiment is $918.44 USD or 0.11 BTC. After this massive catastrophe, I still consider myself lucky, if I would have kept only Bitcoin the value would have been now less then half.
This week 25 Cryptocurrencies are in minus since the beginning of the experiment.
With an overall gain of 91.84 %, the 100 cryptocurrencies together (CryptoETF100) performed better than 62 cryptos from the ones I have.
Let's talk about our Top5 cryptocurrencies.
Tron (TRX) is for the 5th week in a row the best gainer. Eight weeks ago I bought 2500 TRX with $10.04.  2500 TRX are worth now $209.22, a gain of 1984.58 %
TRX gains are by far what it used to be a few weeks ago, but surprisingly it's still performing well. This week brought TRX two new exchanges, Huobi and Cryptopia. Plus a new cooperation with Peiwo.
Vechain (VEN) is still second on the Top5 . With time VEN is being recognized as strong and stable crypto, new cooperations keep coming and they just announced a new partnership with iTaotaoke. Will the upcoming rebranding on February 29th make VEN skyrocket? 
Verge (XVG) keeps up being on the 3rd position with an overall gain of 566.01 %.
0x Protocol (ZRX) is still in the 4th position. With all the hacks happening on centralized exchanges ZRX could be the solution, therefore a lot of investors are jumping in.
Lastly, on the 5th position, I have a new entry Aeternity (AE). If you didn't know and wondering what Aeternity is, AE a scalable smart contract blockchain technology, which interfaces with real-world data. It uses a scalable and trustless turing-complete blockchain and combines proof-of-work with proof-of-stake for a peer-to-peer decentralized global network of nodes. With a gain of 345.39 % it looks like it will be here to stay.
Top 5 cryptocurrencies so far :
Tron (TRX)  +886.53 % , from $10.04 to $99.01
VeChain (VEN) +779.24 % , from 10.11  to $88.93
Verge (XVG)  +566.01 % , from $9.62 to $64.07
Ox (ZRX) +423.82 % , from $9.99 to $52.32
Aeternity (AE) +345.39 % , from $10.35  to $46.12
Worst 5 cryptocurrencies so far :
Next (NXT) -63.37 % , from $9.89 to $3.62
Pura (PURA) -63.58 % , from $9.62 to $3.50
Mona (MONA)  -54.62 % , from $9.76 to $4.43
Einsteinium (EMC2) -80.12 % , from $9.51 to $1.89
Bitconnect (BCC) -98.32 % , from $9.93 to $0.17
A recap of all the 100 Cryptocurrencies and how they are performing against USD

A recap of all the 100 Cryptocurrencies and how they are performing against BTC

Balance by day in USD :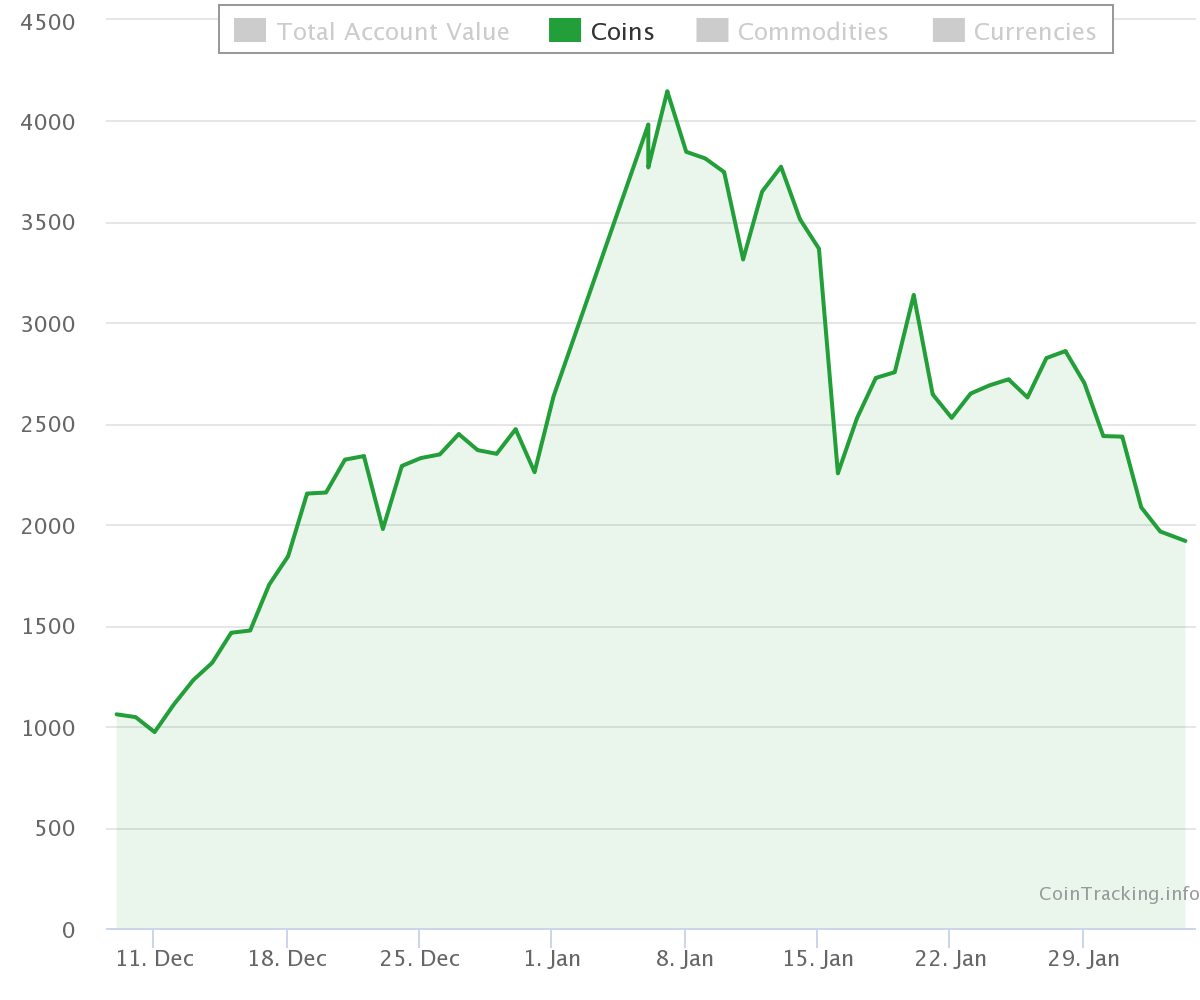 Balance by day in BTC :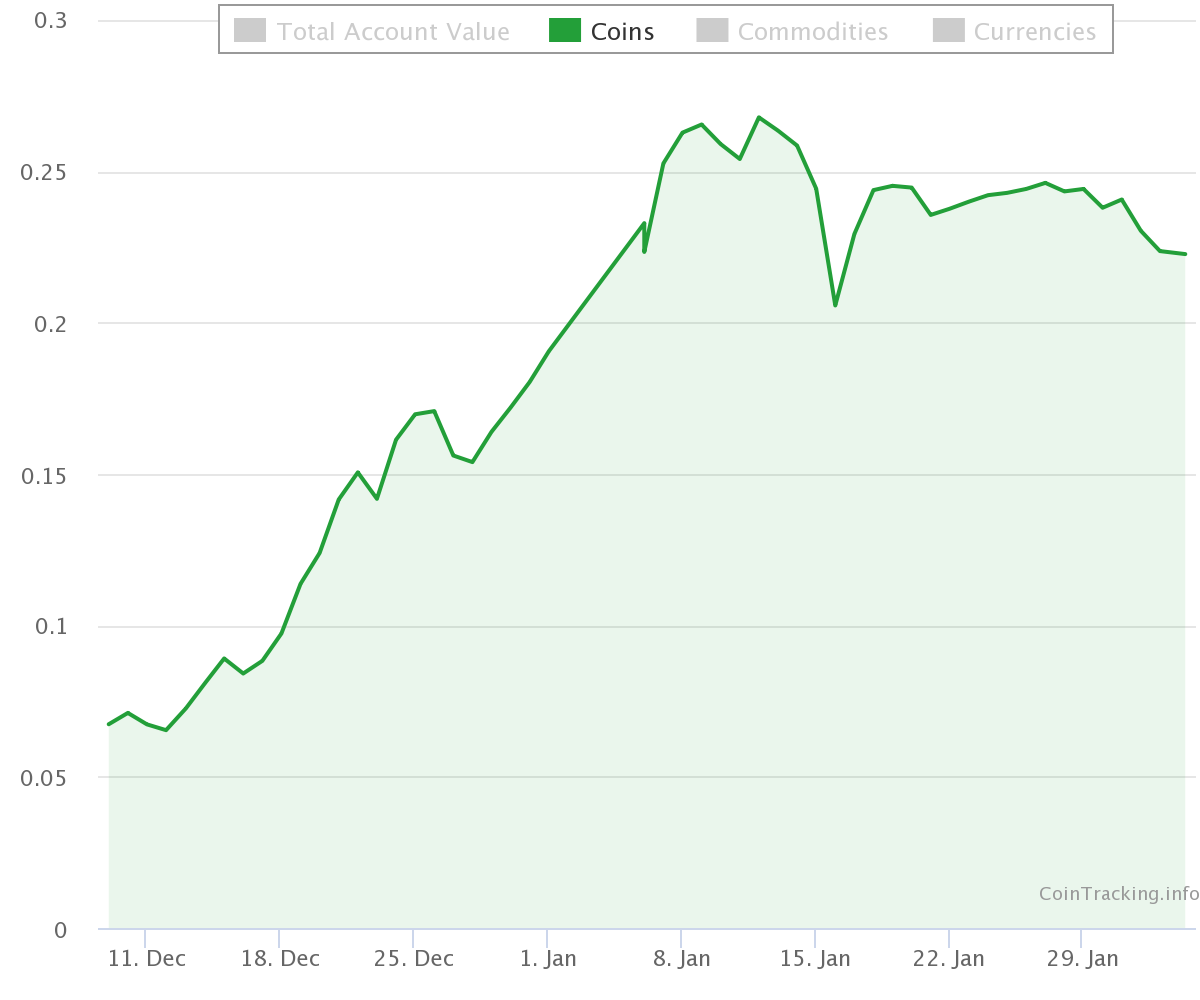 I made a tutorial on how to start your experiment : 
Otherwise in short this is how I started the experiment  :
Got $ 1000 USD in Bitcoin from Coinbase (It's probably the fastest way to get some, they accept debit cards and it's almost used worldwide)
Used part of the Bitcoins to buy the other cryptocurrencies/altcoins
Another part on Bittrex
Added all the trades on  Cointracking.info