After a long break due to work, I'm back to write a bit update.
It's been 21 weeks since I started the experiment. Since then a lot has been going on and I'm glad to see that I'm still gaining $1153 and 0.12 BTC.
The price of Bitcoin is currently at $ 9831, showing a bit gain since the bearish phase going on since March. Is this the beginning of a Bull Run?
The dominance of BTC is at 36% and the Market Cap at 465 Billion, definitely showing a good come back of the cryptos in general.
A nice thing to notice about the experiment is that so far only 29 cryptos are in minus, which means that the (CryptoETF100) is performing way better than a single crypto. Also the gain in BTC is at 0.12 BTC , more than double of what I originally invested.
Let's talk about our Top3 cryptocurrencies.
With an impressive gain of 2090.56 %  Tron (TRX) is the overall winner. The $10.04 originally invested are worth now $219.86, not sure if there is another crypto that performed this well lately! With the almost imminent lunch of the Main Net I'm sure this is going to be a fun ride! 😉
The second overall gainer is Verge (XVG) a crypto with a massive community, one of the biggest in the crypto world. Even with a lot of controversy XVG is still performing really well. With a gain of 916.09$ n the experiment this is definitely a coin that is making the difference!
Lastly Vechain (VEN), I'm sure many of you have heard about it and to be honest I'm not impressed by the gains. VEN is believed to be one of the most promising projects. The 18 VEN I bought 21 weeks ago with $10.11 is now worth $98.75, big gain true, but I'm very positive about a bigger gain, especially with the lunch of the Main Net with Masternodes at the end June!
Top 5 cryptocurrencies so far :
Tron (TRX)  + 2090.56 %, from $10.04 to $219.86
Verge (XVG)  + 919.09 % , from $9.62 to $97.05
VeChain (VEN) + 876.83 %, from 10.11  to $98.75
Aeternity (AE) + 697.48 %, from $10.35 to $82.58
Ox Protocol (ZRX) +608.24 %, from $9.99  to $70.73
Worst 5 cryptocurrencies so far :
Mona (MONA)  -53.97 % , from $9.76 to $4.49
Vertcoin (VTC) -60.96 % , from $9.53 to $3.72
Bitgold (BTG) -67.51 % , from $10.15 to $3.30
Einsteinium (EMC2) -81.78 % , from $9.51 to $1.73
Bitconnect (BCC) -99.79 %, from $9.93 to $0.02
A recap of all the 100 Cryptocurrencies and how they are performing against USD

A recap of all the 100 Cryptocurrencies and how they are performing against BTC

Balance by day in USD :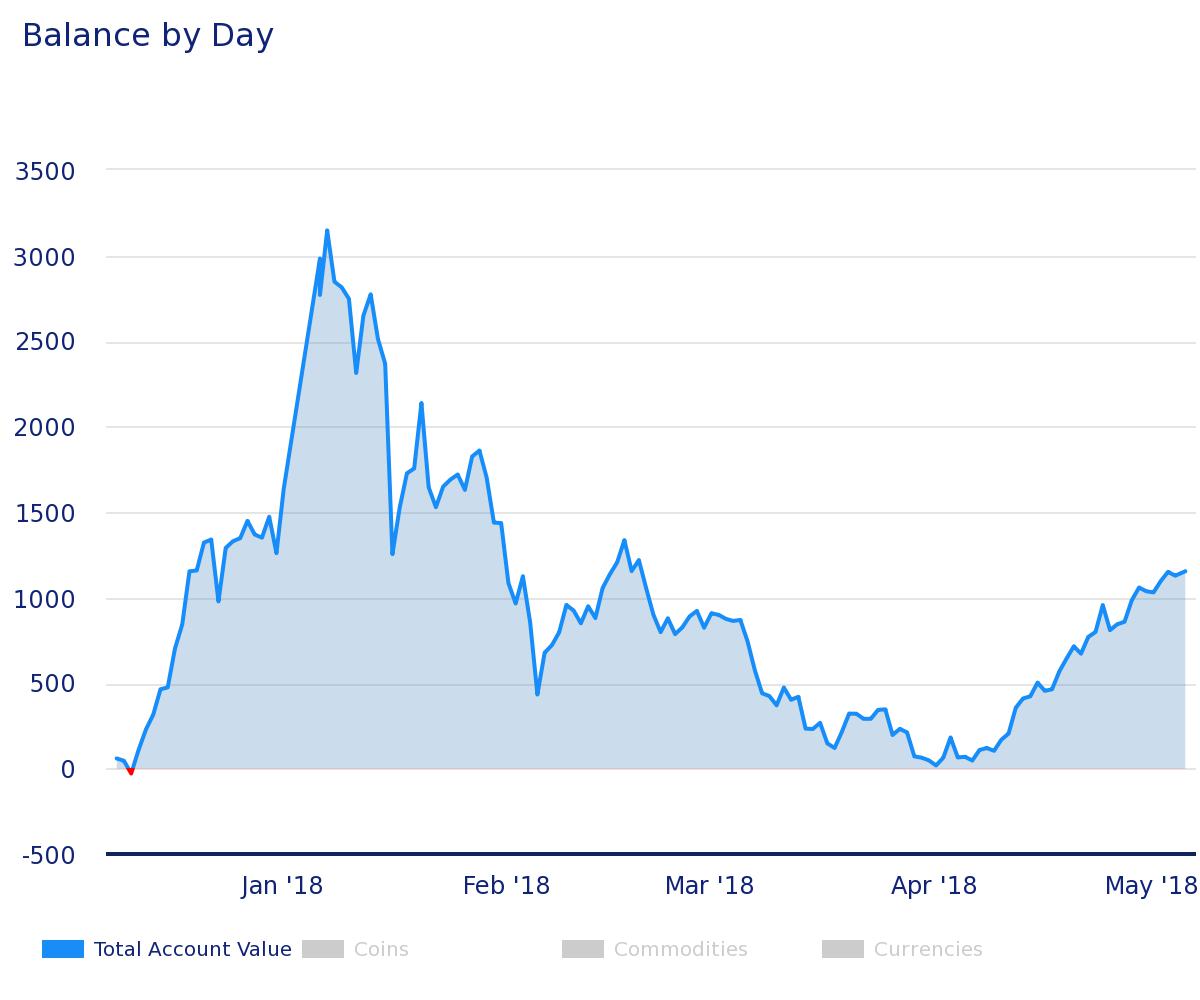 Balance by day in BTC: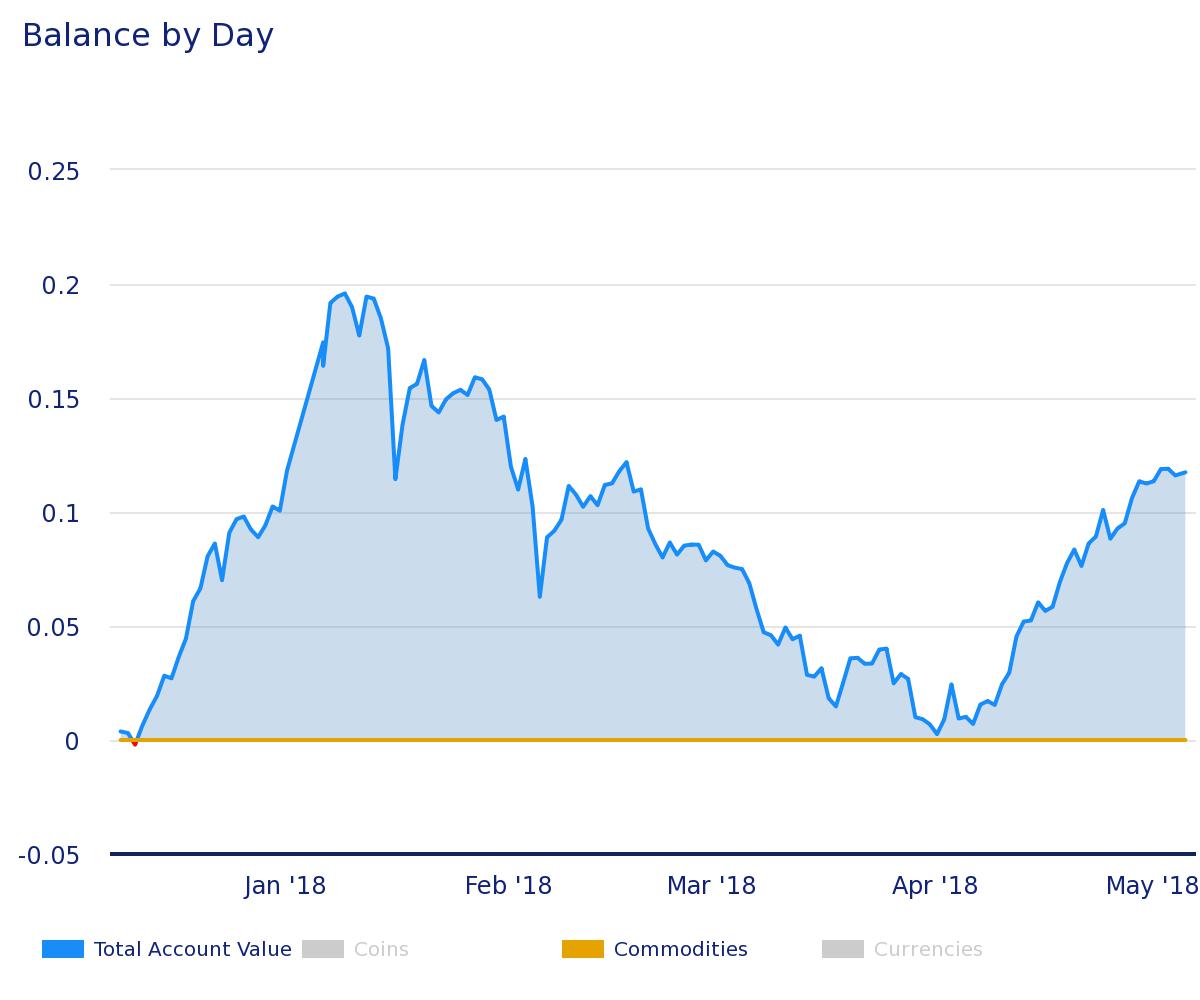 I made a tutorial on how to start your experiment : 
Otherwise in short this is how I started the experiment  :
Got $ 1000 USD in Bitcoin from Coinbase (It's probably the fastest way to get some, they accept debit cards and it's almost used worldwide)
Used part of the Bitcoins to buy the other cryptocurrencies/altcoins
Another part on Bittrex
Added all the trades on  Cointracking.info