It's the 5th week since the experiment has started and a lot has been happening, I actually wonder to know if during the 5 years of the experiment there is going to be a quiet week.
The crypto world has been bombarded by FUD, first with China banning the miners, then with South Korean ban on the exchanges, all this caused the price of Bitcoin (BTC) to go as low as $13,105.90 USD. As if it wasn't enough, Warren Buffet said that "Bitcoin and Cryptocurrencies will come to a bad end". All these caused also the altcoins price to go on a rollercoaster, but today seems like most of them are bouncing back.
To go into details about the experiment, the overall gain is $2533 USD (253%) or 0.19 BTC.
Only 10 Cryptocurrencies are in minus since the beginning of the experiment and 3 of them have reached a gain of over 1000 %.
With an overall gain of 253%, the 100 cryptocurrencies together (CryptoETF100) performed better than 76 cryptos from the ones I got.
Let's talk about our Top5 cryptocurrencies.
Tron (TRX) is also for this week the best gainer. Five weeks ago I bought 2500 TRX with $10.04.  2500 TRX are worth now $275.48, a gain of 2644.83 %
Justin Sun, founder of Tron. Announced this week a new cooperation with Bao Feng, and been teasing about a cooperation with an innovative space company.
Verge (XVG) finally released to so waited Wraith protocol. The price has been stable and 1 XVG is now worth $0.15 , I first bought it 5 weeks ago at $0.0079.
Vechain (VEN) is the first new entry on the Top5,  looking at the chart it has been rising for over one month. In fact, when I bought it 5 weeks ago, I got with $10.11 , 18 (VEN), at the time the price was of $ 0.56 , right now the price is $6.24, so the 18 VEN is now worth $112.48 a major gain of 1012.14 %.
The other new entry on the Top5, sitting at the 4th position is Binance Coin (BNB), it's been a while since BNB has been performing well, not sure about the exact reason, but it could be connected by the fact that Binance volume keeps growing massively. BNB can be used as trading fee option on Binance, doing so it lowers the trading fees from 0.1 % to 0.05%.
Binace volume has been that high that they could barely keep up and had to halt a few time the sign up of new users. From a recent tweet, they announced that they got over 5 Million users!
Ripple (XRP) is having again a big momentum, yesterday MoneyGram signed a deal with them announcing that it will use it to speed up their transitions. I believe this is one of the biggest wins for Ripple so far.
Top 5 cryptocurrencies so far :
Tron (TRX)  +2644.83 % , from $10.04 to $275.48
Verge (XVG)  +1794.52 % , from $9.62 to $182.25
VeChain (VEN) +1012.14 % , from 10.11  to $112.48
Binance Coin (BNB) +914.17 % , from $9.99 to $99.48
Ripple (XRP)  +837.01 % , from $9.75 to $91.34
A recap of all the 100 Cryptocurrencies and how they are performing against USD

A recap of all the 100 Cryptocurrencies and how they are performing against BTC

Balance by day in USD :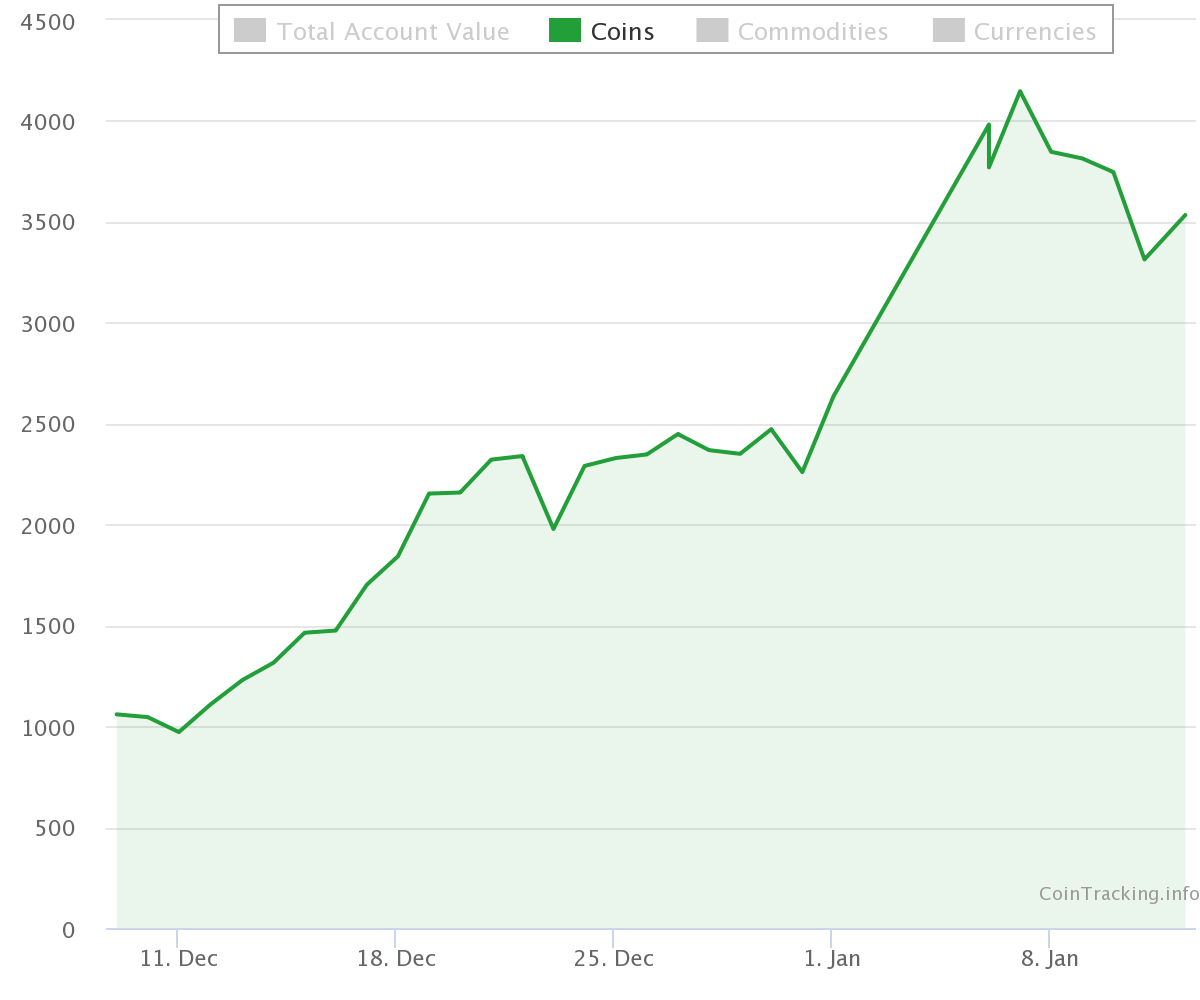 Balance by day in BTC :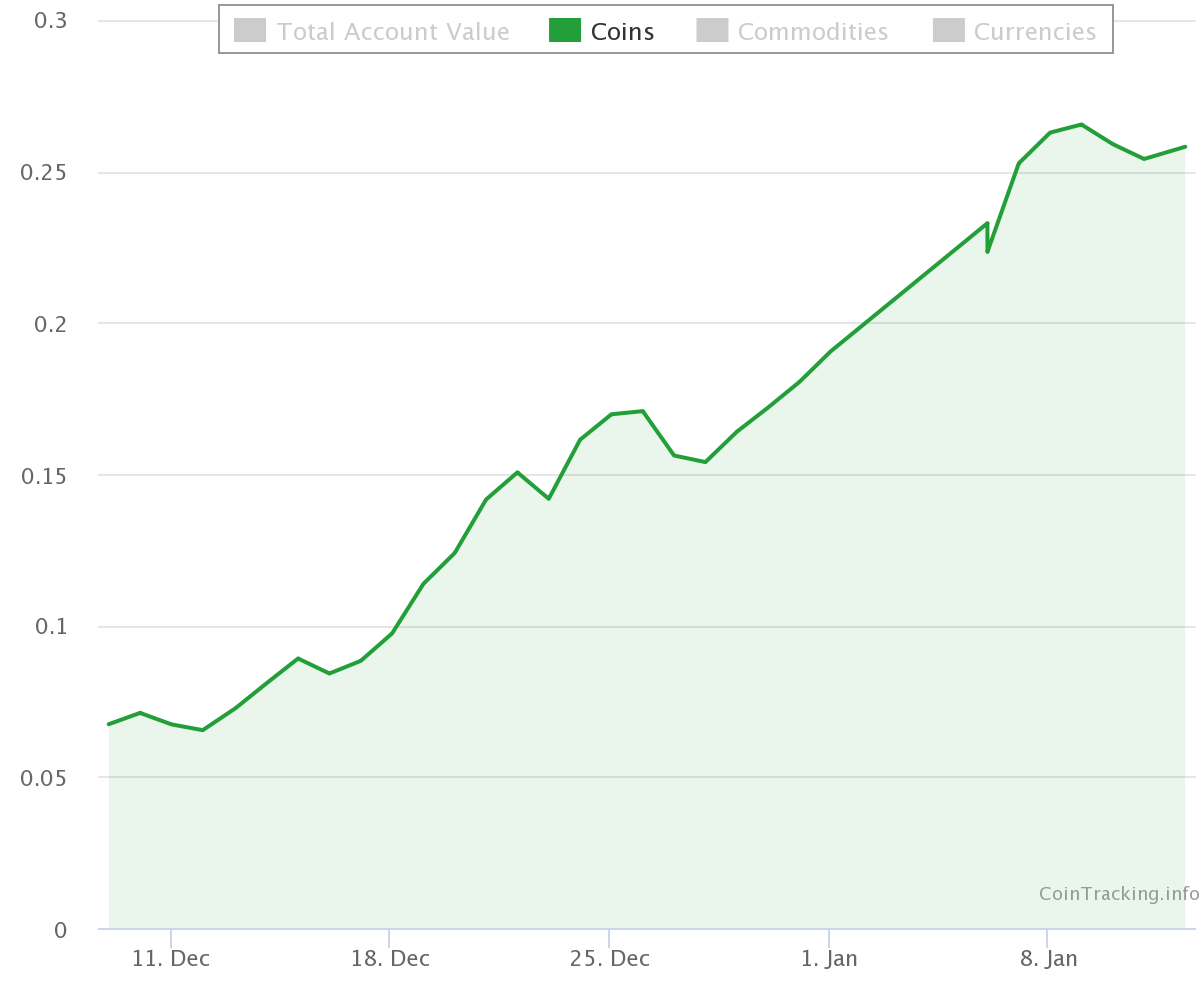 I made a tutorial on how to start your experiment : 
Otherwise in short this is how I started the experiment  :
Got $ 1000 USD in Bitcoin from Coinbase (It's probably the fastest way to get some, they accept debit cards and it's almost used worldwide)
Used part of the Bitcoins to buy the other cryptocurrencies/altcoins
Another part on Bittrex
Added all the trades on  Cointracking.info